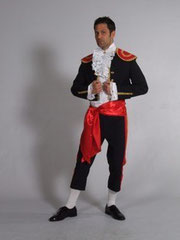 I'm Spanish, so:
I am very lazy! I don't really like the idea of working hard.
I am very rude and we use to shout to each other and argue instead of talking.
I am a person who is thinking about parties and going out with friends all the time.
I am a very good dancer of flamenco.
I must be very unpunctual.
Do not like planning, just improvising.
I don't say "hehehehe", but just "jejejeje".
I must be a very appasionated and good lover.
I must be a lover of bullfights and bullfighter.
I do not speak english (just spanish) and think: "if they come to Spain they must speak spanish!!"
I take at least 3 hours daily siesta.
I'm a drug's consumer (especially cocaine and hash).