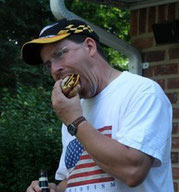 I'm American so:
I am either from New York, Miami, or Los Angeles.
I think that the rest of the world revolves around the US.
I am very loud.
When traveling in foreign countries I think everyone should speak English.
I do not speak with an accent but people from other countries do.
I Like to talk all the time, even when I havenothing intelligent or interesting to say.
I Think that American Football is the best sport in the world and wonder why the rest of the world calls "soccer" football.
I listen to country music and have a cowboy hat
I eat only McDonalds or some other fast food.
I am overweight.
I own a gun. 
I am arrogant.
I work all the time and I am obsessed with money.
I am always in a hurry.
I think Starbucks is the only place to get coffee.
I know more about celebrities and Hollywood than politics and current affairs in the US and rest of the world.
I am always wearing Jeans, T-shirt, Sneakers, and a Baseball Hat.
I know that the US is number one in everything.
I am racist towards pretty much everyone everywhere, I don't understand the difference between Mexico and every other Latin American country, and I think they all need to "go back to Mexico".
I call the French "frogs", the Japanese "japs", the Germans "nazis", I call the Mexicans 30 different things, including spicks, wetbacks, beaners, etc.
Slavery happened a long time ago so it basically never happened.
I still think communists are trying to take over America.
I have no reason to ever leave the greatest country in the world, so I never will.
If I do leave the greatest country in the world, it will either be with the military or for business, unless I decide that Mexico is okay as long as everyone speaks English to me.
When it comes to Iraq, we need to save them from their dictator, when it comes to Africa, they have their own problems to deal with, and "we don't need to get involved with other peoples business."
I have never tasted an imported beer.
I know more about American Idol than American politics.