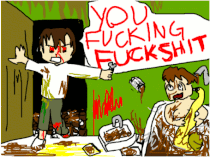 THE SHITTY ROOMMATE
Almost all the erasmus students are bound to share a room when they go to live in another country. Let's see what it may happen to them when they would find a really shitty roomate:
WRITE TO US YOUR OWN SHITTY ROOMMATE EXPERIENCES:
STORY 1:
Some years ago we organized a cleaning plan every two days.
Everyone who did not respect the cleaning plan had to pay 2 euro.
The rich shitty room-mate who came from a wealthy family took 30 euro and said:
this is a perfect plan, so I will put 30 euro and I will do nothing!
STORY 2:
The shitty roommate just informed you that he does not have the money to pay the utilities and the common expenses for the apartment.
Then he sends you a message on whatsapp with his brand new iPhone 5.
STORY 3:
The shitty roommate is the one who moved out, but then came back to "visit the old flat-mates"... but really it was to take back the toilet cleaning brush because he said he bought it
STORY 4:
The shitty roommate is the one who goes to the beach, comes back home... 
and takes all the sand from the beach home to your house!
STORY 5:
The shitty roommate, does not contribute for the kitchen gas tank but instead buys a personal tank to use only when s/he is cooking
STORY 6:
At the bus stop I meet one man, he tells me:
Hello, you are Jane
me: sorry, do we know each others?
Him: no, nice to meet you, but I saw already your pictures in your room one day I slept there, I am Jack's friend, your roomate!
me: oh, so my shitty roommate let the others sleep in my room when I am not there...
STORY 7:
I (a guy) went on a trip to Catania, when I came back I found a surprise in my room: a bra under my bed.
I asked my roommate about it and he said:
Sorry, my room was occupied by my best friend who was having a good time with his girlfriend, where should I have taken my girl?
STORY 8:
Palermo Via Divisi: I still remember my old roommates, two pretty girls withotut brain.
That day it was raining cats and dogs. The two girls were at home and they even think to close the windows/ balcony doors, and the whole apartment was soaking.
It was actually not so funny. When we got home they acted like no explanation was necessary.
STORY 9:
The shitty roommate come to your room and say.
'my darling new flat-mate', if only this walls could talk...
I had the best sex of my life with J. in this single bed before moving to the other room with the double bed...
STORY 10:
The stingy shitty roommate who does not want to buy a new shampoo,
before he decides to buy more shampoo s/he uses your shampoo. When that is finished s/he uses the hand-soap as shampoo... in the end he would use the dish-washing liquid?!
STORY 11:
My shitty roommate, instead of washing the pots and pans:
- he would hide them under the sink
- he would put them on the balcony
- he would cover them with a blanket
- he would throw them away in the garbage
STORY AND PICTURES 1:
The shitty roommate is the one who buys something for the flat and then claims the money... to the last cent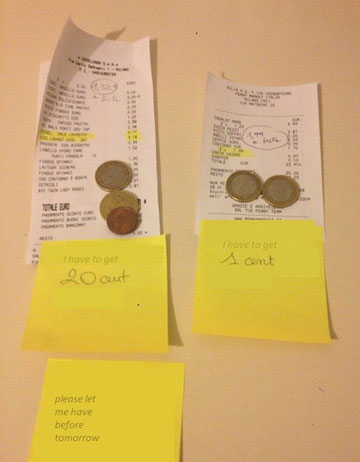 STORY AND PICTURES 2:
The shitty roommate is the one who tries to open a can of tomatoes...
and makes all the kitchen look like this